We will recognize our 2022 Teachers of the Year at Half-time of the Girls game tonight vs Shattuck. Please come out and help celebrate their accomplishment!
High School Teacher of the Year-Dr. Laura Hillman
Laura Hillman earned her BA of Music Education from OBU in 1990, her Master of Music from SWOSU in 1995, and in December of 2021, completed her Doctorate of Education at Baylor University.
Dr. Hillman is in her 32nd year of teaching, having begun her teaching career at Cheyenne in 1990 as the K-12 Vocal Music Director. She has also taught in Denison, Texas, Reydon, and Elk City. Back at Cheyenne for almost thirteen years, Ms. Hillman has taught all subject areas for 3rd through 6th grades, and is currently the Vocal Music Instructor as well as working with our Alternative Education students. Her students consistently earn membership in honor choirs, as well as earn superior ratings at OSSAA solo, ensemble, and choral competitions at the regional and state levels. She strives to maintain high standards in her classroom and to positively influence her students in all areas of life.
Ms. Hillman is Secretary of Western Oklahoma Choral Directors Association and holds membership in the OME and Oklahoma Choral Directors Associations. In addition to serving as the secretary of the Board of Directors for Friends of the Rook, she also serves as pianist and an adult Sunday School teacher at First Baptist Church, Cheyenne.
Ms. Hillman has two children, Lia – an English/Journalism teacher at Hydro-Eakly Schools and Jace, a junior at CHS.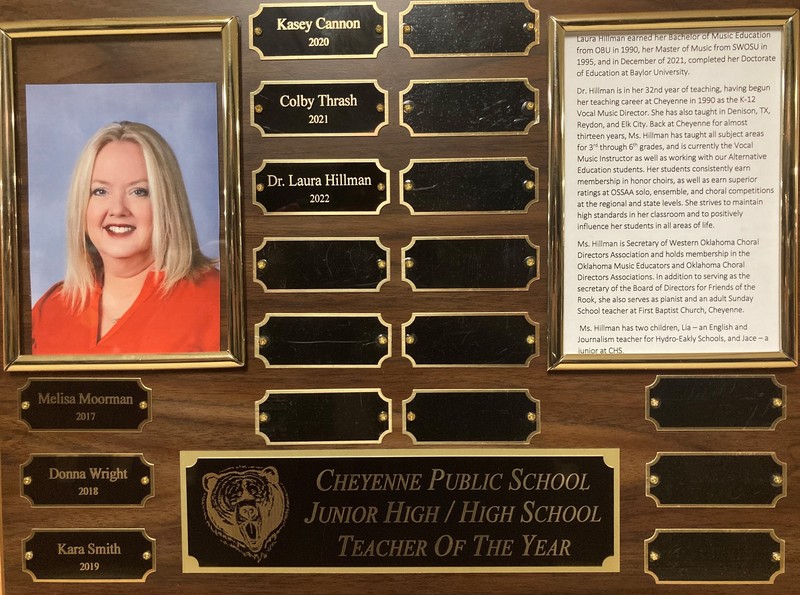 Elementary & District Teacher of the Year
Mrs. Sarah Hensley is a First Grade teacher at Cheyenne Elementary. She completed her student teaching at Cheyenne in the fall of 2018 with one of her mentors, Mrs. Lori Barnett, where she discovered her love of teaching and her heart for the children in the community. After graduating from SWOSU in 2018, she was hired by Cheyenne Public Schools and served in Reading Sufficiency for one semester before transitioning to First Grade in 2019.
She loves teaching and is so proud to be carrying out her calling at Cheyenne Schools. Her favorite subject to teach is reading and she loves to watch her students build confidence and develop new skills. She would like to thank Mrs. Chalfant for inspiring her to strive to be a better teacher for her students every day, and to thank Mr. Trammell, the Cheyenne Board of Education, and her fellow co-workers for the wonderful opportunities presented. She would also like to thank her husband of 3 years, Cooper, for his selfless support and for always helping her with endless classroom projects.