Concurrent Enrollment
Cassie Romberg
Monday, October 12, 2020
Juniors & Seniors -
Concurrent enrollment opens up for the spring semester on October 19th (SWOSU) and Oct 22nd (WOSC). It's important to enroll in classes early as they fill up quickly!

The state waives tuition for seniors for up to 18 credit hours but unfortunately through most colleges, juniors have to pay full tuition. So make plans to take advantage of this opportunity your senior year for tuition-free classes! (fees still apply)
In order to qualify to take concurrent classes through area colleges, students must have an ACT score of 20 OR a high school GPA of 3.0 AND be in the top 50% of their class.
Below are some ITV classes that will be offered through SWOSU. Online classes through WOSC and SWOSU (or other colleges) are also available.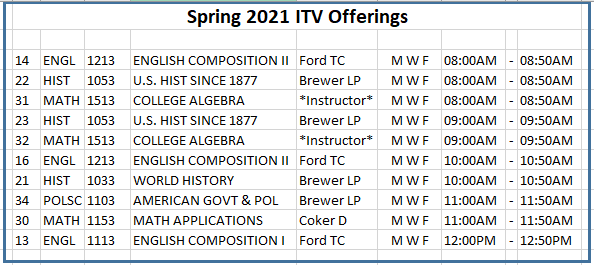 Also, here is more information on the concurrent enrollment process:
Concurrent Enrollment Information for Parents
Let me know if you're interested and I can help you pick out classes and get the appropriate paperwork completed.
Cassie Romberg