HSJV and HS games against Fargo have been rescheduled for Saturday 2/1 @ Fargo. HSJV will start @ 4:00pm followed by varsity @ 6:30pm.

The 2018-2019 Oklahoma School Report Card is now available in the News section of our website.

At this time, the forecast shows the warmest time of the day will be at the end of the school day and buses will run at normal times. We want everyone to be safe and still enjoy a beautiful snowfall.Thank you for your cooperation

Due to the unpredictable Oklahoma weather this morning, If you would like to pick up your child or make arrangements for your child to be picked up, you may do so at anytime. Attendance will not count against them.

8th and Under Bi-County Tournament finals are tomorrow, Saturday 1/18 @ Merritt. Girls will play @ 1:20 followed by boys @ 2:30. The bus will leave at 12:00pm.

The girls bus will leave @ 8:15am on Saturday 1/18 for the Dewey County Tournament. Girls will play @ 10am.

All JH/HS students who are EXEMPT from ALL semester tests and signed up- we will be leaving campus on Monday and you will need lunch money!! If you need help with that, please let Mrs. Moore know!

8TH, 10TH, 12TH grades will be taking the OPNA survey on December 4th. For more information or to opt out your student, see the live feed on the school website.

8th, 10th, and 12th grades will be taking the OPNA survey on December 4.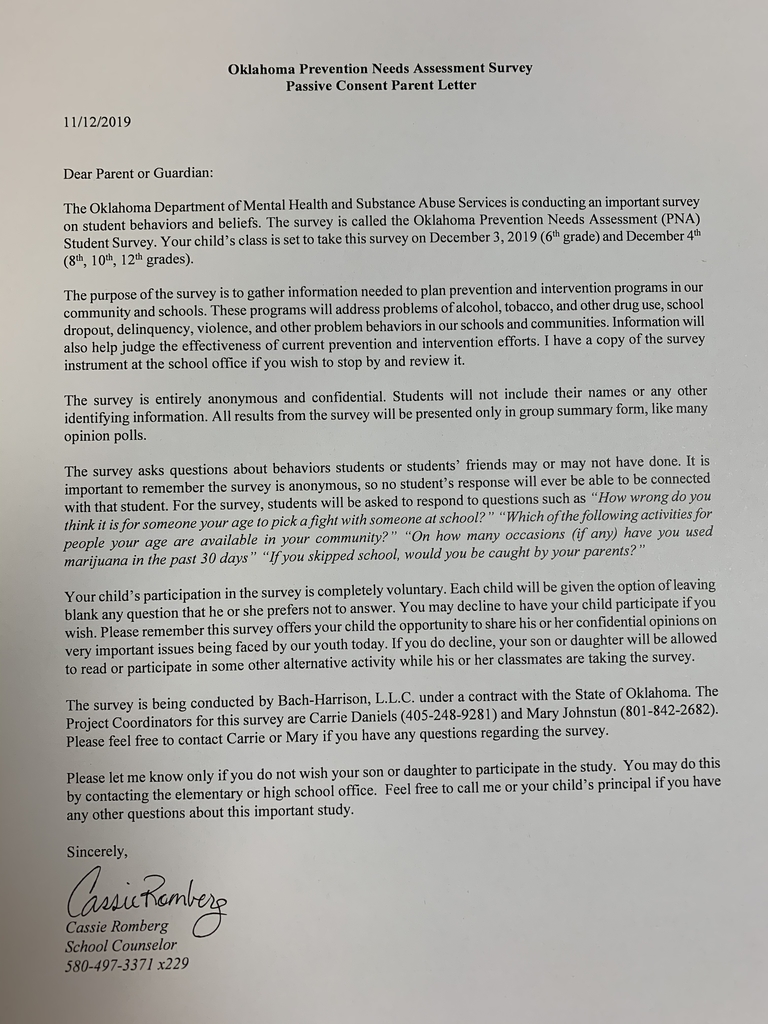 Picture day is this Friday November 15! Pictures taken will include individual retakes, elementary basketball, JH/HS Basketball, cheer, school organizations and groups. Picture packets may be picked up the office.
The One Act play performance dates have changed. The play will be performed Friday October 4th at 1:00, during school and again on Monday October 7th at 7 p.m.

Blue Tiger Sharks sporting their new team t-shirts and gaining team speed!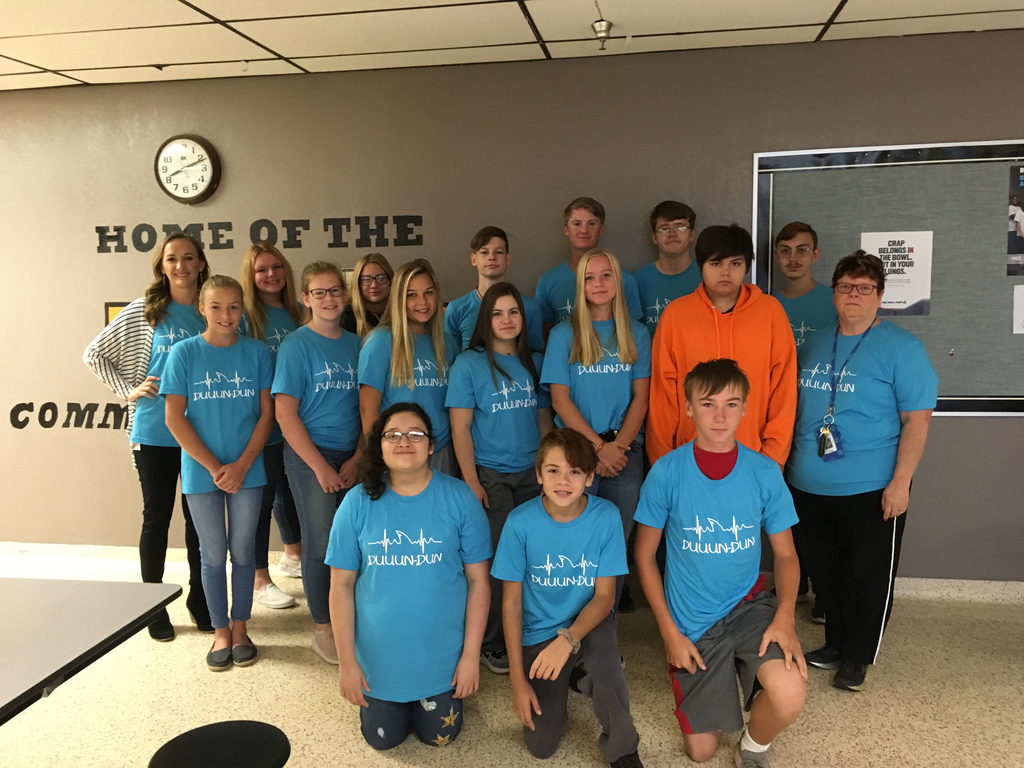 Bear Band members will be selling Yankee Candle products starting September 23rd! Orders must be turned in by October 8th. Proceeds go towards the band's needs in the areas of travel expenses, instrument upkeep, band camp, and more. We thank you for your support!

All Juniors that signed up for the ACT on 10/1 need to pay their $45 testing fee to the HS Office by Friday 9/20.

Congratulations to Kady Szabo and Ashton Cockrell- 1st Place in the Drum Major competition at the State Fair parade!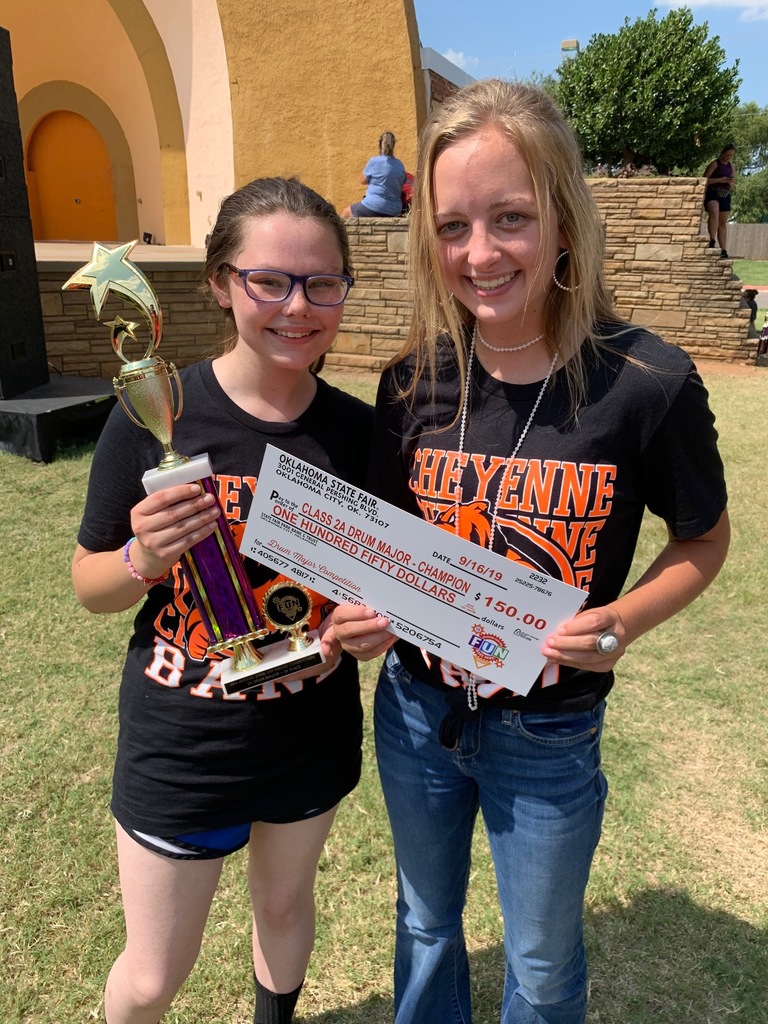 Basketball Schedules have been posted under Documents, Athletics, and the appropriate group.Thanks!

All Juniors are eligible for the Northfork Youth Tour competition. All Seniors are eligible for the Masonic Essay Contest. Juniors and Seniors have already received the information. For additional information, contact Mrs. Butler via email.
dianna.butler@cheyenne.k12.ok.us


Cheyenne School Pictures Thursday, August 29, 2019 Individual Portraits Cross Country Junior High Softball and Baseball High School Softball and Baseball Senior Panel Pictures (Seniors need to Bring $25 for setting fee ~ Make checks payable to: Horton Studios)

The Cheyenne Board of Education is happy to announce student insurance is now offered at not cost to parents! More infor at:
https://5il.co/9qwh